While a new asset in the crypto space, NEO is one of the cryptocurrencies that is already causing a stir in the market. Based on its performance to date, NEO is likely a threat to the mainstream digital assets such as Bitcoin (BTC), Ethereum (ETH), Litecoin (LTC), and Ripple (XRP). Therefore, why should NEO be on your must-watch list?
NEO (NEO) Highlights
Originally called AntShares, NEO was released in February 2014
Current circulating supply is 65 million
Maximum supply is 100 million
Price: $16.24 (October 27, 2018)
Market Capitalization $1.05 billion USD (October 27, 2018)
What is NEO cryptocurrency?
NEO is an open network for smart economy. The non-profit community-driven blockchain is committed to encouraging the creation of a scalable network of decentralized applications (DApps). NEO utilizes the blockchain technology to develop smart contracts using various programming languages.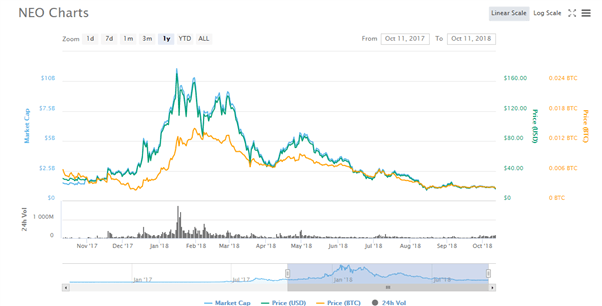 The network is known for faster transactions owing to the use of a delegated Byzantine Fault Tolerance consensus, which can process up to 10,000 transactions per second. Importantly, NEO brings on board a large and powerful community, which includes the Chinese government as well as Alibaba, the Chinese e-commerce giant.
Why should you watch NEO in 2019?
Popularly known as the 'Chinese Ethereum,' NEO enjoys a huge following, adoption, and use in China. There are rumors that NEO Company is engaging the Chinese government constantly concerning regulatory oversight. Through its association with China, the NEO token has gained much visibility and recognition.
China is one of the leading Fin Tech markets globally. Its association with NEO's simple-to-use and programmer-friendly language makes it ideal for both developers and users. However, NEO may suffer drastically if China bans cryptocurrencies, as they did with ICOs. The evolution and value of NEO will depend on whether the public can adopt it as a serious competitor of Ethereum.
Other cryptocurrencies to watch
In addition to NEO, other altcoins to watch in 2019 include Stellar (XLM) and EOS (EOS). These digital equally recorded impressive growth in 2018.
Stellar (XLM)
An open source and decentralized platform for exchanging fiat to digital currency, Stellar (XLM) came into existence in 2014. Stellar (XLM) has a market capitalization of $4.432 billion (as of October 27, 2018). The asset trades at $0.234 as of this writing. With the Stellar Consensus Protocol algorithm, it's able to conduct fast, reliable, and international payments compared to other platforms. The recent announcement by tech giant IBM to use the Stellar network for its cross-border payments was a big boost. It gives the cryptocurrency credibility and market heft, compared Ripple, whose XRP remains under the scrutiny of SEC.
EOS (EOS)
Officially launched in July 2017, EOSIO is token-powered software that seeks to provide developers with a quick and easy way of creating DApps, cloud storage, hosting, authentication, and other applications. The platform requires no user fees and has the capacity to process millions of transactions per second.
EOS cryptocurrency is likely to attract many users owing to the project's simplicity, speed, and cost-effectiveness. EOS trades at $5.38 USD at the time of writing. With a market cap of $4.87 billion and a total supply of more than 1 billion EOS, the cryptocurrency is at number 5 on CoinMarketCap—among the top 10 best.
*Chart courtesy of CoinMarketCap
Disclaimer: This article should not be used as a direct trading or investment guide. Do your own research and consult a financial expert before you invest in cryptocurrency.
Disclaimer: The information on this site is provided for discussion purposes only, and should not be misconstrued as investment advice. Under no circumstances does this information represent a recommendation to buy or sell securities.